Hi All,
It has been some time since we have had a website update, our license expired a while back for the software behind the site so we were not able to update for some time. Thanks to those of you that do not use ad-block on our site we were finally able to meet the minimum requirement for a pay-out from the ads. We used the ad money to renew our license and then upgrade the website. I also ported over the dark skin I have been working on.
There are a few other goodies available now that came with the update and the theme refresh, I will touch on them below via spoiler tags so the page does not get dragged out.
Leaderboard
Reactions
As can be seen in the image below, we now get to use reactions for forum posts and content in the databases instead of only an up-vote. I have tried to add a decent array of things to choose from.




Profile Backgrounds & Youtube Videos
This is pretty self-explanatory, however you now have the ability to have a custom background for your forum profile. Also we have replaced the MP3 music player, with one that can embed Youtube videos. For an example see my profile here, or the Archive Librarian's profile.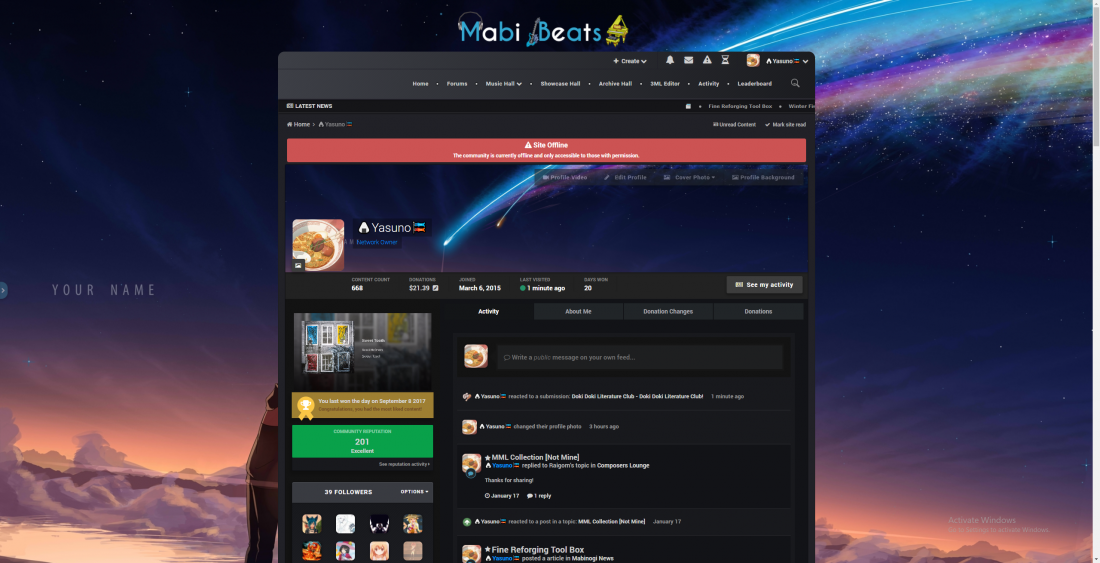 Changes to Group Icons
In order to reduce the over-all image page load we have switched groups that used to have image icons (Such as Verified Composers) to use Unicode Emoticons. These are web-standard emotes built into all (current version) browsers and also works on mobile. The design may differ slightly from device to device, but it will always be supported.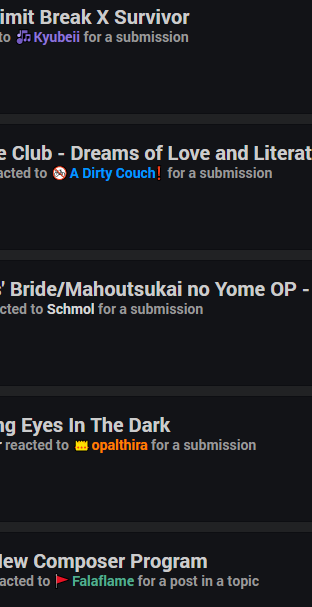 Solo Music Hall Changes
The Solo Music Hall has been updated to follow the same structure as the other existing Music Hall's. There is no longer a copy MML to clipboard button in solo hall, and instead of there being 3 tracks on the page it is now only the MML code, like the other Music Halls.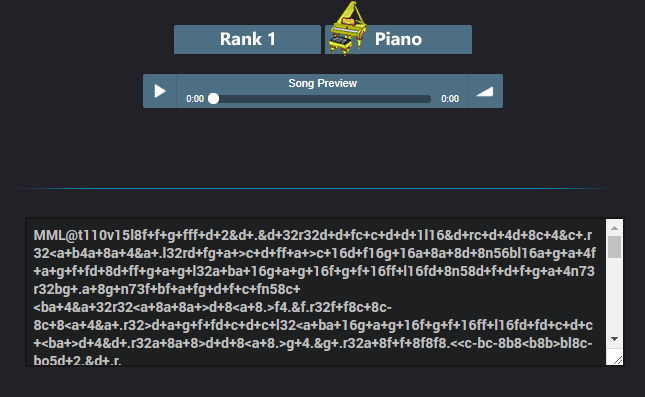 There have been many other slight changes throughout the board over-all since the theme was completely re-done but here are some specific things that are no longer enabled/available at this time.
No custom background selector for the site like previous skin version. (Might add back later)
No Light theme available. (This will be added later)
Signatures are no longer enabled in order to keep the post sections clean.